John Hardy
Head of FX Strategy
Summary:  The UK Parliament voted to move forward with the Boris Johnson Brexit deal on the second reading vote, but did not agree to get Brexit done before October 31, sidelining sterling for now as we await the next round of headline risks in the weeks to come, albeit with no real fears of No Deal risks returning. Elsewhere, traders are sitting on their hands, possibly due to the wait for US-China trade deal news.
---
The vote in favour of Boris Johnson's deal with a reasonable 329-299 majority, given that the Northern Irish DUP government coalition partner of voted against. But the 322-308 vote against the compressed timetable to get Brexit delivered before the October 31 deadline means at least another few weeks of political fighting over amending details of the Brexit deal and possibly a UK general election. It seems clear that Brexit will happen, but the further delay could inflict additional damage on an already struggling UK economy if investment
ecisions are held back. Sterling got no boost from the first vote and saw a fairly orderly consolidation on the second vote – we suspect there is more consolidation risk tactically for sterling crosses, with some outside risk of a bit larger retreat if we see a dramatic worsening in UK data for the next couple of data cycles, as this could change the narrative and assumptions around BoE policy.
We had a good discussion in today's Market Call podcast on divergences in risk appetite, where basic measures like the VIX, the standard measures of corporate credit spreads and emerging market credit spreads are all strongly in the green and suggest rather robust risk appetite. But elsewhere in the shadows, there are signs of strain, particularly in the worst quality junk bonds, the leveraged loan market and in some stories in private equity. As well, USD liquidity issues are ongoing as evidenced by the over-subscription for the Fed's 14-day repo yesterday (over $50B in demand for the $35B available.) In short, these signs are unsettling on risks of contagion, even while traditional financial condition indicators look benign.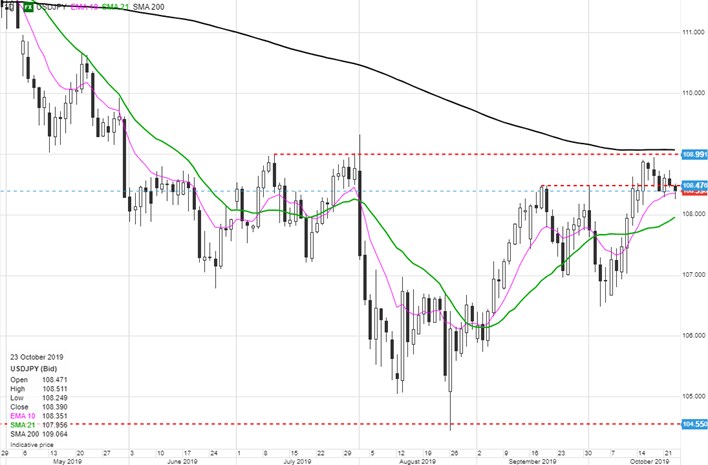 Chart: USDJPYUSDJPY has avoided making a statement for more than a week now as we await a signal from the US bond market on whether US recession risks will drive a new dip in long yields (traditionally very JPY supportive) and see risk sentiment catch a cold. Any upside hopes for USDJPY traders would likely centre on the hopes that the US recession risks will not be realised and that the US 10-year benchmark is set to rise above 2.00% again. A less benign scenario for USD upside could be linked to liquidity issues into year end that the Fed has perhaps underestimated despite its resumption of balance sheet expansion. Regardless, the chart looks pivotal here as USDJPY has probed above recent range highs but has not yet taken out the pivotal 109.00 area that would open up the upside. To the downside, a strong signal from the bond market (lower yields) and a close back below 107.50 would begin tilting momentum back lower.
The G-10 rundown
USD – a small bounce in the US dollar's fortunes yesterday as Brexit failed to bring the full-on breakthrough hoped for and perhaps simply on lack of further catalysts or flow to drive it lower after the recent move of reasonable magnitude. Not sure where the market looking for a catalysts, but recent inter-market correlations suggest risk appetite is negatively correlated with the US dollar.
EUR – little anticipation around the ECB tomorrow, as the warring factions aren't in agreement on policy. It is clear that the ECB has reached the end of its policy rope – interesting to hear how Draghi treats his final press conference.
JPY – the yen getting a boost from the support in the bond market yesterday as the US 10-year benchmark yield approaching important resistance ahead of 2.00%. A further shift lower in yields and risk appetite needed for the yen to thrive – USDJPY needs to tilt one way or another as we discuss above.
GBP – plenty of room for tactical consolidation. Widely circulated chart yesterday that I retweeted showing collapsing tax revenues, a classic indicator of a steeply slowing economy. The Brexit delay doesn't help and tremendous momentum will need to develop once the Brexit is in place to counter massive built-in damage that is likely here and for the next couple of quarters, according to credit impulse measures.
CHF – EURCHF sidelined by lower yields and lack of further Brexit process. The catalyst may need to come from fiscal stimulus in the EU if this pair is to blast out of the range to the upside.
AUD – the AUDUSD rally needing to take out the sub-0.6900 range highs to suggest a break higher is unfolding, though the 200-day moving average has also been a key resistance indicator this year, currently around 0.6965.
CAD – weak retail sales out of Canada yesterday, with the core at -0.2% month-on-month in September, but there was little impact on Canadian rates. The
NZD – while we await a pulse in AUDNZD, the NZDUSD chart has reached up into the critical resistance zone if the pair is going to remain in a bear market, with a local pivot (the September high) at 0.6450, the major early 2019 lows just below 0.6500.
SEK – Riksbank meeting tomorrow not seen as a major catalyst, with some risk that the recent runup in Swedish short rates is not supported by Riksbank guidance – EURSEK looking pivotal here, as it never quite made the knockout blow to the downside.
NOK – Recent new highs for the cycle as Norges Bank set to meet tomorrow – can they avoid talking FX in the statement and linking it to rate guidance after flattening guidance at the previous meeting?
Leave us a comment!
Error, group does not exist! Check your syntax! (ID: 3)