Migration of global brokers to MetaTrader 5 is entering a new round. Recently, a number of notable market players have announced the launch of the multi-asset platform with support for hedging. Among them are the international Forex and CFD broker IFCMarkets, Brazilian ModalMais, STP broker Caveo Brokerage from Kuwait and the Hong Kong-based STP Broker Perfekt Capital Limited.
"In addition to our own NetTradeX platform and MetaTrader 4, IFCMarkets now offers trading on MetaTrader 5 significantly enhancing the possibilities of our traders", says Agasi Vardanyan, Executive Director of IFCMarkets. "MetaTrader 5 provides a number of new features, improved functionality and expanded set of tools making the trading process more flexible and comfortable. The powerful algorithmic trading is implemented in the platform by means of the built-in MQL5 object-oriented development environment opening new horizons for professional traders".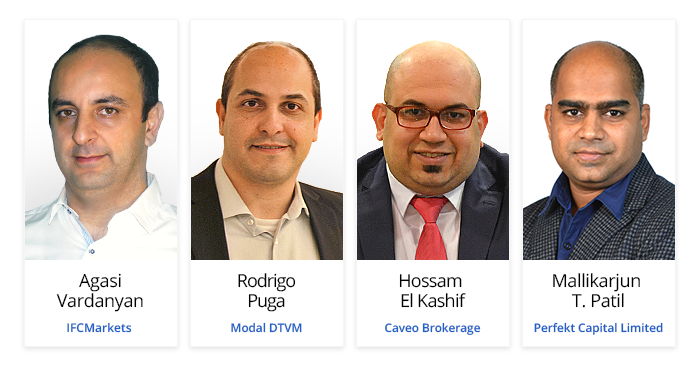 "We are very excited with MetaTrader 5 launch at ModalMais and we expect it to become the most used platform by our clients in a very short period of time", adds Rodrigo Puga, CEO of Modal DTVM. "We have a huge demand from active traders and from Expert Advisors' users. Brazilian market lacks platforms like MetaTrader 5, where customers can easily program and execute their strategies with speed and assertiveness. We had invested in a solid and robust infrastructure to meet the highest standards and to offer the best MetaTrader experience for the most active traders in Brazil with the lowest possible latency".
"As a Kuwaiti company, our founders are traders with more than 10 years of experience", notes Hossam El Kashif, CEO of Caveo Brokerage commenting on switching to MetaTrader 5. "This reflected on our mission to make it easier to trade starting from our trading platform and moving to wide range of services. At the end of 2016, our plan was to move forward to better experience of trading. We realized that MetaTrader 5 is our solution once MetaQuotes announced that the hedging is now available. We realized that now we can offer better technology with more trading instruments including futures and stocks beside the regular Forex trading conditions that the clients used to have in MetaTrader 4. MetaTrader 5 will provide traders with the ability to trade US stocks, Futures, ETFs, FOREX and CFDs."
"The introduction of the widely demanded MetaTrader 5 hedging option has expanded opportunities for Forex traders bringing more traders to the platform", says Mallikarjun T. Patil, CEO of Perfekt Capital Limited. Along with other powerful platform tools like Depth of Market and standard timeframes, the hedging feature will give more confidence and flexibility in trading. Now, it is possible to have multiple positions per symbol, including opposite directed ones if the price moves against a trader".
Leave us a comment!
Error, group does not exist! Check your syntax! (ID: 3)