USDCAD – On this pair, highly sensitive to D. Trump's tweets and the state of negotiations concerning the new NAFTA trade agreement (North American Free Trade Agreement), the quotations have been moving to the north since February this year. Last week, however, was clearly bearish and the price overcame the line of the upward trend.
The sentiment of the retail market is also interesting – we will notice an overwhelming advantage of longs over shorts because as much as 95% of traders hold the buy position and only 5% the sell position. Such an imbalance usually leads to sudden price movements and it is likely that there will soon be a fight for Stop Loss of buy orders (long orders)…if long squeezes occur – the price will go even further south into a strong demand zone 1.3125.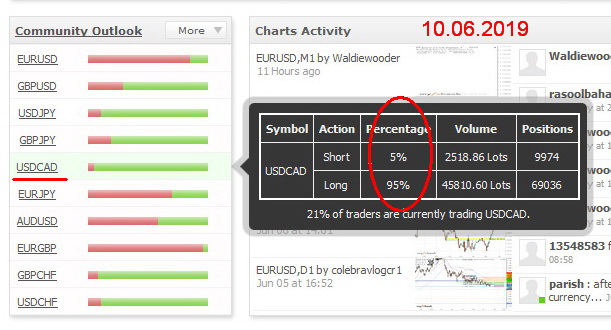 The long squeeze is a typical upward trend trap for longs and consists of a fairly sharp downward correction, occurring when a sudden drop in price encourages further sales, forcing long sellers to close orders in order to protect against a large loss.
---
In our Facebook group, which you can join anytime: https://www.facebook.com/groups/328412937935363/ you will find 5 simple strategies on which my trading is based. There, every day  we post fresh analyses of currency pairs and commodities
Leave us a comment!
Error, group does not exist! Check your syntax! (ID: 3)